Image
Upgrade Your Lawn With Core Aeration
Lawn Aeration in Georgia
The more we enjoy our outdoor living spaces, the higher the chances are for our grass to develop patches of compacted soil and thatch, which are major obstacles to vibrant property growth. At Environmental Turf Management, we provide the remedy through lawn aeration. Over time, even the healthiest home and business yards may start to look sparse, resulting in:
Water puddling after rain
Thatch buildup
Heavy clay soil
Thin, patchy, or bare areas
Fortunately, these conditions are often easy to improve or even remedy with Environmental Turf Management. Our core aeration can reduce thatch and soil compaction and help your lawn thrive. 
Quality Lawn Aeration You Can Trust
Environmental Turf Management offers core aeration for Bermuda and Zoysia grasses. Our technicians focus on aeration services throughout the warmer spring months when your lawn is actively growing. Our systematic aeration approach allows us to best serve our residential and commercial customers, no matter what the season has in store!
Benefits Of Our Innovative Aeration Services
Yes, some properties may need aeration more frequently than others; however, at Environmental Turf Management, we know that every lawn can benefit from consistent aeration. Our team uses commercial-grade equipment to methodically work through your yard, pulling plugs from the soil that allow fertilizer, water, and oxygen to redistribute throughout the root zone to yield several crucial advantages, such as:
Improve air exchange between soil and surface
Reduced water runoff
Stronger root systems
Elevated heat and drought tolerance
Increased thatch breakdown
Minimized thatch buildup
Whether used alone or with any of our other lawn care programs, aeration can promote increased root development and support vibrant, healthy new grass growth.
Fescue Seeding Services
At Environmental Turf Management, we know that fescue lawns have unique growing needs. That's why we offer fescue seeding to home and business owners throughout our service area. Fescue flourishes in cooler temperatures, making fall the perfect time to aerate and seed.
Our fall aeration approach mirrors our spring program; however, in the autumn we also reseed to combat any existing summer drought damage. The result? In just a few short weeks, you should start to see signs of green sprouts making their way through the sparse, bare spots throughout your lawn!
Image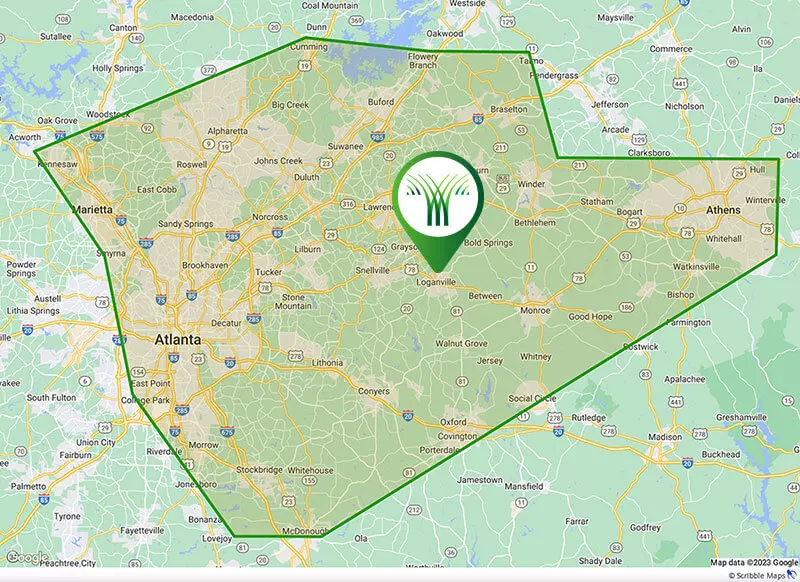 Aeration Service Area
As a locally-owned business, we love helping our neighbors and forming deep connections with the communities we serve. Our aeration technicians service Metro Atlanta and surrounding areas: