Lawn Care in Lawrenceville You Can Count On
Lawn Care in Lawrenceville, GA
For over 20 years the professionals at Environmental Turf have been providing exceptional lawn care services to the Lawrenceville community. Where most lawn care companies use the same pre-fab lawn care program, we take the time to craft individual lawn care plans. We know that every yard is different and that's why we offer a variety of lawn care options tailored specifically for your yard.
Our lawn care in Lawrenceville provides:
Lawn fertilization
Fire ant control
Tree & shrub care
Aeration & seeding
Mole control
And more!
Image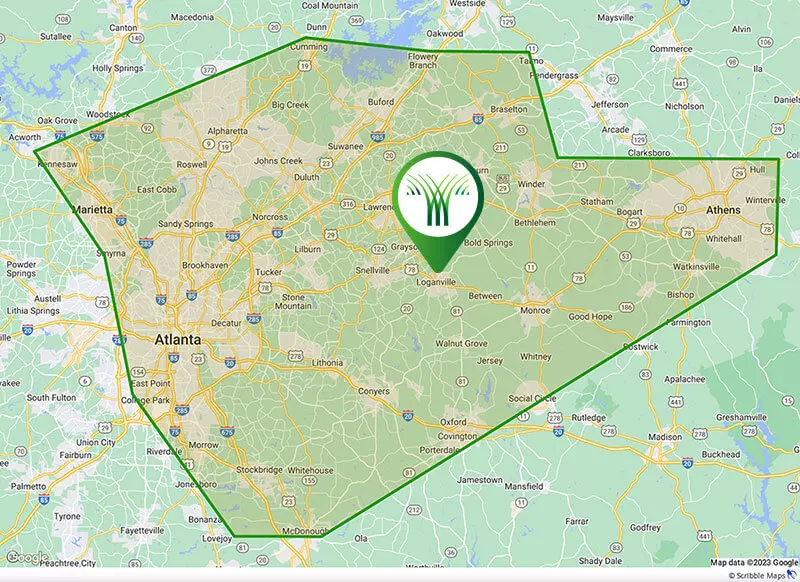 Over 20 Years of Local Lawn Care
When you choose Environmental Turf Management, you are choosing your neighbors! Our technicians have serviced lawns in Lawrenceville for over 20 years, so we know how to get the job done. Not all lawns are the same, so it is important to trust a local company that understands the unique needs of Georgia yards. You can trust Environmental Turf Management to provide a high-quality, unique experience that will bring your wishes to reality! And if you are not satisfied, we will be back out for free until you are. Not in Lawrenceville? We offer lawn services in Loganville and the surrounding area.
Aeration in Lawrenceville
Lawn aeration is a process that relieves compacted soil by extracting tiny cores of sod from your lawn. Soil becomes compacted naturally over time for a number of reasons, such as playing on the lawn, mowing, or dry weather. If you have tried watering the area to no avail, maybe it's time to consider getting your lawn aerated. As the soil gets packed together, it prevents water and nutrients from reaching the roots of your grass. Lawn aeration is one of the best lawn care services you can do to build the health and appearance of your lawn. Here are some signs of compacted soil:
Weak-looking/wilted grass
Water runs off or pools in areas of your yard
Bare or patchy areas of grass
Stunted plants
Soil too hard to stick a knife into
Compliment Your Yard With Overseeding
Overseeding is a technique used to rebuild the lushness and increase the resistance of your lawn. At Environmental Turf Management, we provide seeding services for fescue grass. Overseeding is the addition of grass types in your yard to boost your lawn's resistance to pests, diseases, and even drought. After your lawn is aerated, it is in perfect shape to be overseeded.
Tree & Shrub Care in Lawrenceville
Trees and shrubs are the anchors of our landscapes. They are the largest and often, the most expensive investment you can make in your yard. But trees are not purely decorative plants, they also provide:
Shade in the summer
Homes for wildlife
Clean air
Privacy
Windscreens
Do not put the health of your investments in jeopardy with other lawn care companies. When you team up with Environmental Turf Management, you know that your trees are in the best hands. Our tree and shrub care program uses the best available products and the latest equipment to deliver effective and affordable care for home and business owners in the Lawrenceville community.
Fire Ant Control in Lawrenceville
Fire ants are an invasive species that have made their home in the South and have become a permanent fixture of southern lawns. Fire ants construct massive tunnel systems and can have colonies that number in the hundreds of thousands. As they excavate their tunnels they pile the dirt onto your lawn. These large unsightly mounds can kill the grass if you do not remove them. Fire ants are very aggressive and should be taken very seriously as they pose a threat to children and pets. If you have fire ants on your property, do not wait to call the fire ant control experts at Environmental Turf Management.
Flea & Tick Control in Lawrenceville
Lurking in Lawrenceville lawns is a hidden threat. Fleas and ticks can live in many places around your yard where they wait until one of your pets gets close enough to hitch a ride and gain entry to your home. The best way to avoid bringing fleas and ticks into your yard is to stay away from the areas they live in, such as:
Wooded areas
Brush
Tall grass
Under trees
Under decks and porches
Fleas and ticks can live almost anywhere without direct sunlight and love the high temperatures and humidity of the Atlanta region. With our flea and tick control, we can eradicate fleas and larvae before they can reach the adult stage and prevent them from coming back into your yard.