Image

Quality Lawn Services With No Contracts
Lawn Services in Georgia
A great lawn can raise the value of your home, set a good first impression, and give you an incredible outdoor space to enjoy. Keep your grass looking green and healthy with our Georgia lawn services. We have been in business since 2000, and use all of the latest industry advances to handle everything for you, including:
Fertilization

Aeration & seeding

Weed control

Insect control

Lawn disease control

And more!
Custom Care Designed for Your Property
Instead of giving you a one-size-fits-all treatment plan, we take the time to understand your lawn's unique needs. That includes identifying the type of grass you have, listening to any concerns, and looking for problem areas. We use all our information to create a custom treatment plan that ensures you see the best results possible.
Our lawn service offerings include: 
Fertilization applications to grow strong, vibrant grass.

Aeration and overseeding to break up thatch and fill in bare spots.

Weed control to eliminate plants like crabgrass and clover.

Insect control to protect your lawn from fire ants, grubs, and army worms.

Lawn disease control to manage brown patch, dollar spot, and more.
A Better Lawn, Guaranteed!
We believe everyone deserves to have a beautiful, healthy lawn—and we are here to help make it happen! If you are ever unhappy after 3 applications, simply give us a phone call and our experts will come back to make things right. That's just one way Environmental Turf goes above and beyond for all our customers!
Get 50% Off Your First Treatment
Feed Your Lawn with Fertilization Applications
Fertilizing your lawn is a science, so we do not recommend trying to guess what bag of fertilizer at the store is the best one. Instead, trust our experts to create a custom blend of nitrogen, phosphorus, and potassium. We inspect your lawn for bare patches, yellow spots, and other issues, then match your property with the best fertilizer option.
Here is what each nutrient does:
Nitrogen helps produce chlorophyll, making your grass thicker and greener.

Phosphorus promotes root development and overall growth.

Potassium leads to better water and nutrient uptake.
Keep Weeds Out Year-Round
Weed control services are an important aspect of lawn and garden maintenance. Weeds can grow quickly and take over your property, competing with desirable plants for nutrients, sunlight, and water. Luckily, our weed control both prevents and eliminates the common weeds in Georgia, including broadleaf and crabgrass. We provide year-round applications that keep the weeds out for good. Contact us today to learn more. 
Protect Your Lawn From Disease
Brown Patch, Dollar Spot, and Zoysia Patch are all lawn diseases caused by fungus, and if left untreated, they can destroy your beautiful lawn in a very short time. Warm temperatures at night, soil moisture, and dew are all contributing factors for fungus to develop. Depending on the different types of lawn disease, you may notice small or large brown spots in your lawn.  Luckily for you, the experts at Environmental Turf Management can diagnose and treat most lawn diseases! Give us a call today for a free quote on lawn disease control. Here are the 3 most common lawn diseases you might be dealing with: 
Brown Patch
Brown Patch is primarily found in fescue lawns. However, it can also affect Zoysia and Bermuda. This disease thrives in high humidity and temperatures ranging from over 80 °F during the day and over 60 °F at night. Incorrect turf height can also contribute to the development of this lawn disease.  When found in warm season turf, it is commonly referred to as Large Patch or Zoysia Patch. 
Image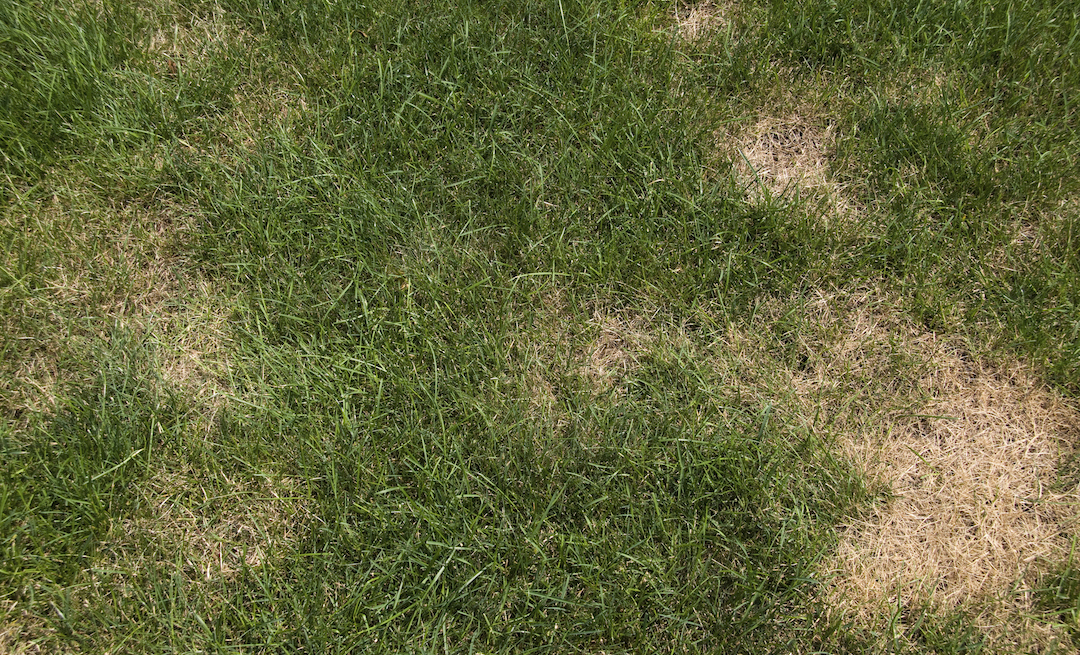 Dollar Spot
Dollar Spot disease is caused by the fungus Clarireedia jacksonii and can affect warm and cool-season grasses. Dollar Spot is easily confused with Brown Patch. However, the brown spots caused by Dollar Spot are usually smaller in diameter, measuring anywhere from the size of a silver dollar to the size of your hand. Dollar spot is usually associated with lawns that are low on nutrients and suffering from drought. A proper fertilization program can help prevent the development of this disease. Dollar Spot is most prevalent in the spring and fall. However, this fungus can survive over winter and reoccur.
Image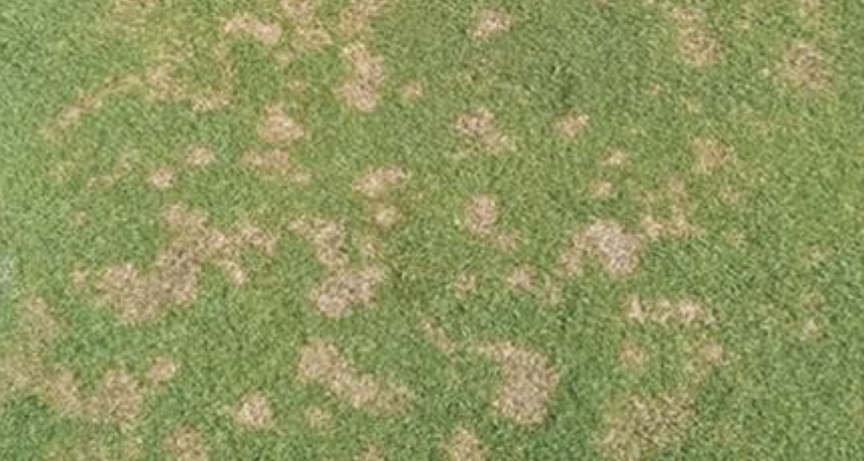 Zoysia Patch or Large Patch
When the Rhizoctonia fungus is found in warm season turf, it is commonly referred to as Large Patch or Zoysia Patch. Just like Brown Patch,  this lawn disease thrives in high humidity and temperatures ranging from over 80 °F during the day and over 60 °F at night.  Large patch is the most common disease found in Bermuda and Zoysia lawns.  This disease is most noticeable in the spring and fall when warm-season lawns are actively growing.
Image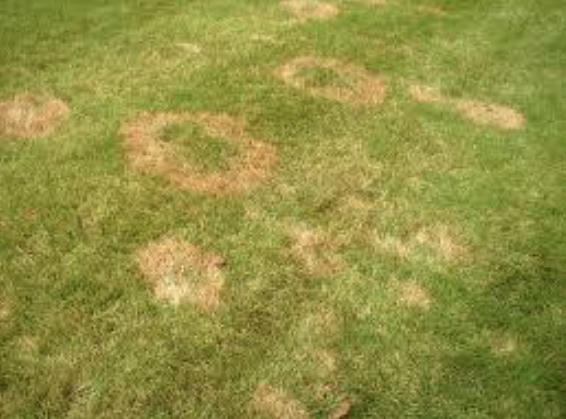 Trust the Local Lawn Experts
Maintaining a lawn in Georgia is not always easy, especially with our hot summers, clay, soil, and lots of rain. To get the lawn of your dreams trust the local lawn experts at Environmental Turf Management. We know all the secrets to keeping your lawn looking its best year-round, and we do all the hard work for you!
Image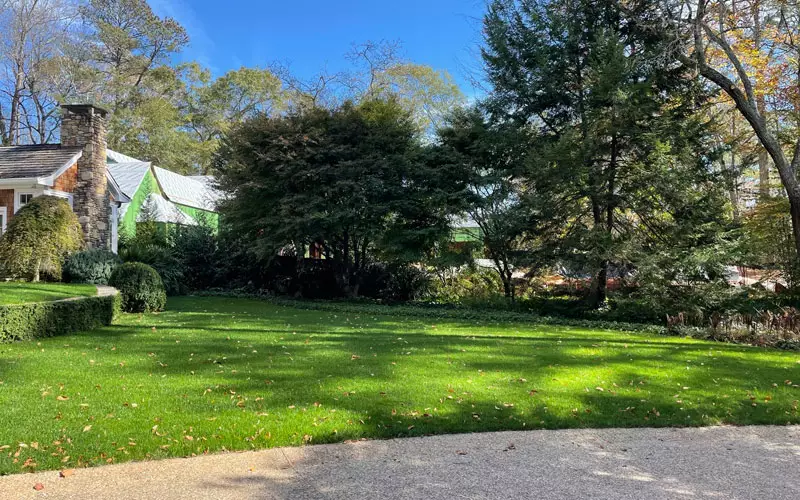 Image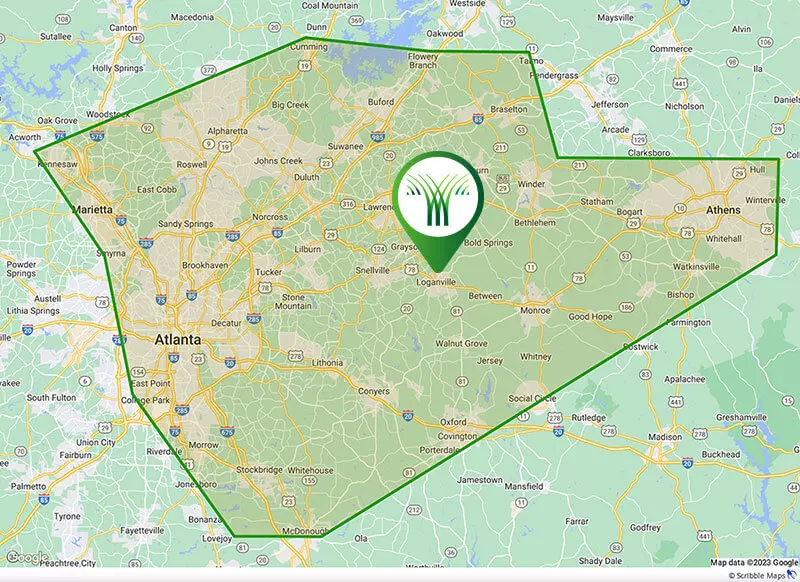 Lawn Care Service Area
As a locally-owned business, we love helping our neighbors and forming deep connections with the communities we serve. Our lawn care technicians service Metro Atlanta and surrounding areas: