Family-Owned Lawn Care in Athens
Lawn Care in Athens, GA
Vibrant surroundings and 2,000 acres of parks and outdoor facilities validate that we take our green spaces seriously here in Athens. But you do not have to be a passionate lawn care expert to appreciate having a gorgeous yard of your own. The technicians at Environmental Turf Management are the local, licensed lawn care professionals who apply unmatched expertise to your turf for you by offering a well-rounded suite of lawn care services to the Athens area.
Our lawn services in Athens include:
Lawn fertilization
Weed control
Flea and tick control
Tree and shrub care
Fire ant control
Seasonal lawn aeration and overseeding
Image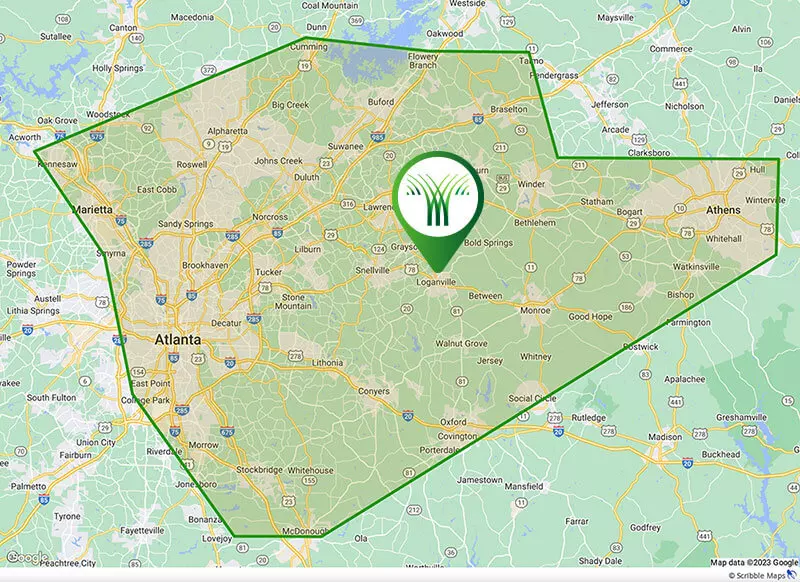 Unmatched Athens Lawn Care
Environmental Turf Management is here to bring the elusive vision of basking in your outdoor space to your front porch with our encompassing suite of lawn care programs. When you partner with us, you will never have to loop in another service provider because our programs cover all the basics you need. We provide the following programs:
7-step Lawn Fertilization Program – feeds, strengthens, and protects your yard with a custom blend mix and application schedule designed, specifically, for your turf.
7 Weed Control Applications – prevents and eliminates broadleaf and grassy weeds from barging in on your immaculate grass and garden beds.
Insect Control – stops destructive insects from blanketing your grass with dead patches, and also helps with fire ant control and flea and tick control.
Lawn Disease Control – our proactive approach to preventing your grass from suffering from brown patch, dollar spot, zoysia fungus, and other common lawn diseases.
Get your personalized lawn care plan and call us today!
Aeration in Athens, GA
When no amount of watering or lawn fertilization is reversing your yard's bare patches and weakening grass, our lawn aeration service rectifies your turf. Regular use and enjoyment of your grass can cause thatch build-up and soil compaction that blocks water, oxygen, and fertilizer from nourishing your grass. Here's how our aeration services work:
We remove small plugs from your soil with a high-quality core aerator and redistribute them in your yard.
The new holes then become welcoming pathways for water, air, and nutrients, replenishing your grassroots with essential elements they've been sorely missing.
At Environmental Turf Management, we provide seeding services for fescue grass. Here's how our seeding services work:
To fill in patches from aeration, we scatter seeds into the holes left behind by core aeration, paying special attention to barren spots.
The seeds blend beautifully with your current grassroots and germinates in as little as 2 weeks.
Tree and Shrub Care in Athens, GA
Trees, shrubs, and ornamentals enhance your landscape's curb appeal, air quality, and protection against Georgia's unforgiving sun. Our perfected and personalized tree and shrub care program keeps your decorative plants performing year-round with:
The best tree and shrub care products.
Regular fertilization.
Tree spraying.
The latest equipment.
Our program takes a seasonal approach to tree and shrub care, relying on our professionally trained and licensed landscape technicians to administer 6 applications that benefit your plants through each season's challenges, from insect and disease control to preparing for the winter months.
Fire Ant Control in Athens, GA
Rather than accept fire ants on your property as a trade-off for enjoying our state's warm temperatures all year, we believe you and your pets have the right to walk barefoot on the grass without enduring the burning sting of a fire ant bite. Removing fire ants effectively takes more than spraying ant killer on an attacking swarm. Our professional fire ant control service guarantees these temperamental insects steer clear of your property by:
Providing an expert examination of your property by our fire ant extermination team.
Facing the issue head-on with a qualified, trained staff skilled in fire ant control.
Using the right gear to eradicate fire ants both on the surface and underground.
Meeting your fire ant control needs with an affordable price point.
Flea and Tick Control in Athens, GA
Avoiding fleas, ticks, and the notorious diseases they carry takes more than keeping your distance from common flea and tick hotspots. They can invade your home and nest in your carpet and clothes. Our professional flea and tick control service eliminates these worries and lets you take back your outdoor living space.
Our 3-pronged approach to flea and tick control includes:
A property assessment to identify nests and places of high activity.
Extermination of fleas and ticks at every stage of their lifecycle.
Consistent treatment to keep them off your property for good.