Local Lawn Care in Atlanta Since 2000
Lawn Care in Atlanta, GA
Enhance your outdoor space with Environmental Turf Management and see how we can transform any lawn, big or small. With 23 years of dedicated expertise, we're your trusted local lawn care service, committed to transforming your lawn into a masterpiece. Nurture your lawn's health and aesthetic appeal by choosing the lawn care experts of Atlanta.
By choosing us for your lawn care needs, you'll receive a comprehensive range of services, including: 
Fertilization for vibrant growth. 
Aeration and overseeding for seamless regeneration. 
Weed eradication and protection against pests. 
Preemptive measures against lawn diseases.
And more!
Image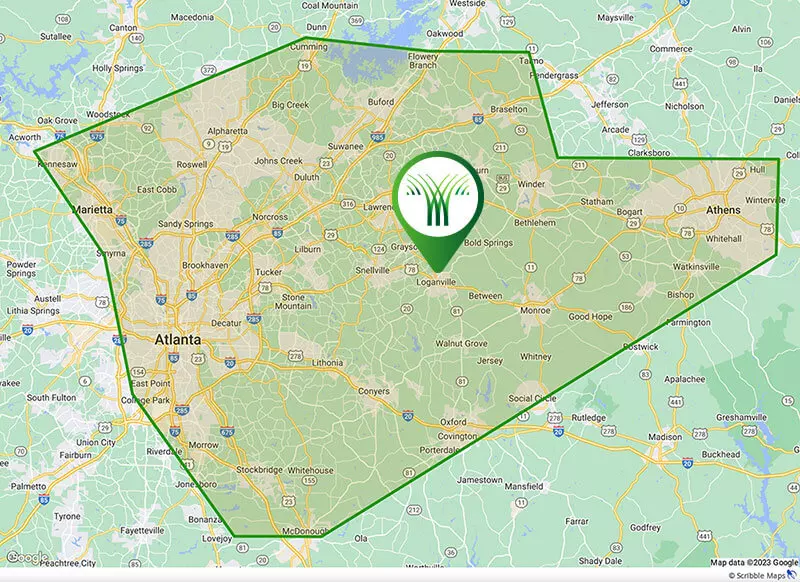 Family-Owned Local Lawn Care
When it comes to local lawn care, one size definitely doesn't fit all. That's why placing your trust in a local company that understands the unique requirements of Georgia's yards is vital. Georgia's challenging conditions, including scorching summers, clay soil, and abundant rain, require specialized attention – that's where we excel. With our knowledge and dedication, your dream lawn becomes a reality year-round as we tackle all the hard work on your behalf. Experience the beauty of a lush, vibrant lawn without the stress – rely on us for exceptional results.
Over 20 Years of Lawn Services in Atlanta
Our Georgia lawn services have been perfecting lawns since 2000, utilizing the latest industry innovations to provide comprehensive care. At our family-owned business, we hold a deep sense of pride in our services. After all, we're not just a company – we're your neighbors too!
Tailored Treatments 
Your lawn is one-of-a-kind, and its care should reflect that. Our approach at Environmental Turf Management is all about tailoring treatments to fit your property's distinct requirements. We don't rely on generic solutions – instead, we take the time to truly understand your lawn.
This means identifying the grass type, addressing concerns, and pinpointing problem areas. With this knowledge in hand, we craft a custom treatment plan that guarantees the finest results achievable. By creating a custom treatment plan designed exclusively for you, we ensure that your lawn thrives like never before.
Satisfaction Guarantee
We're so confident in our services that we offer an unwavering guarantee of satisfaction. If, by any chance, you find yourself unsatisfied after a service, we're ready to make it right. If you're unhappy with our treatment after 3 applications, we'll come back and re-treat at no extra charge.