Locally-Owned Lawn Care & Maintenance in Johns Creek
Lawn Care in Johns Creek
We believe that everyone should feel proud of their lawns, but we know not everyone has the time to spend on yard work. That's where we come in! At Environmental Turf Management, we offer comprehensive programs to help with everything from grubs to disease prevention. Sign up for an annual service and save 50% on your initial visit! Our lawn care services in Johns Creek include:
Fertilization

Weed control

Disease prevention

Aeration & seeding

Grub control

And more!
Lawn Treatments Tailored To You
It is not easy to get the lawn of your dreams, and it is even harder to maintain it! Instead of struggling to pick the right products at the store and figure out how to use them, trust our lawn care in Johns Creek. We offer personalized treatment plans that use the latest industry advances, giving you great results every time. When you partner with us for lawn care, we will:
Create a custom treatment plan

that meets your property's unique needs.

Apply a custom blend fertilizer

to stimulate new growth.

Aerate to break up thatch

and compacted soil.

Eliminate unwanted weeds

and stop new ones from growing.

Protect your lawn

from grubs, fire ants, and armyworms.

Treat lawn diseases

like brown patch and dollar spot.
Image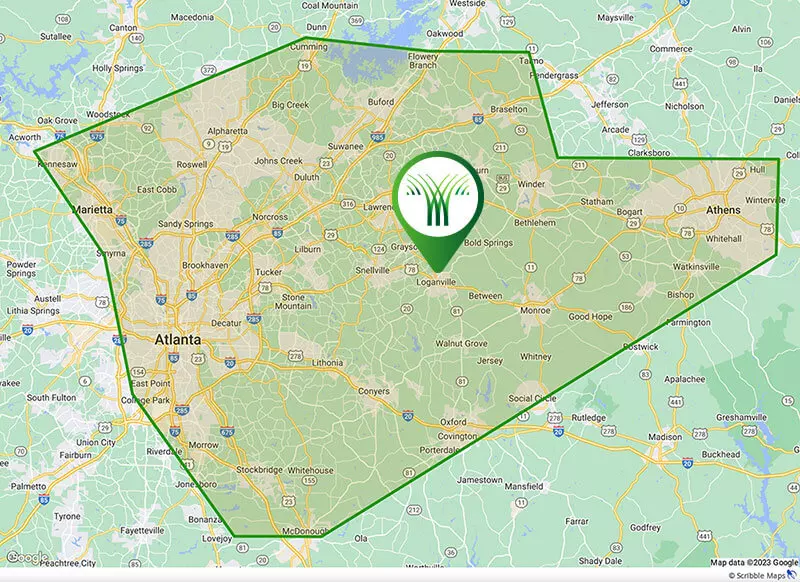 Our Satisfaction Guarantee
We have worked hard to serve our community by providing honest and affordable services. That includes guaranteed lawn care in Johns Creek! When you choose Environmental Turf Management, you are choosing a company that does not stop until the job is done right. If you are ever unhappy after one of our visits, let us know, and we will come back for free.
Local Johns Creek Services You Can Trust
There are a lot of lawn care companies to choose from, so how do you know who to pick? At Environmental Turf Management, we make it easy. Our technicians have been servicing the greater Atlanta and Alpharetta area since 2000, so we know what it takes to treat your Johns Creek lawn. The Georgia weather can be tough on your yard, so choose a company that understands its unique needs. Between our local experience, satisfaction guarantee, and family-friendly treatments, there's no other options. See for yourself today!
Aeration in Johns Creek
Compacted soil is one of the biggest challenges for your lawn. Soil compacts naturally over time as thatch, which is a layer of dead grass and other organic material, builds up. This makes it difficult for water, nutrients, and oxygen to reach grass roots. To save your turf, trust our lawn aeration in Johns Creek. We'll break up hard soil and give your lawn room to breathe.
Benefits of lawn aeration include:
Stronger roots:

Breaking up soil gives grass roots more room to grow, making them deeper and stronger.

Thicker grass:

Following up with overseeding gives grass seed the perfect conditions to germinate, filling in bare patches.

Reduced runoff:

Aerating helps water penetrate the earth, reducing runoff and puddling.

Disease resistance:

Healthy grass naturally has a better resistance to diseases, drought, and weeds.
If you have fescue grass, we provide overseeding services to follow aeration! Learn more here. 
Tree & Shrub Care in Johns Creek
Mature trees and shrubs not only look great, but they can also give you a 20% increase in your property value. Trust our tree and shrub care services to ensure your ornamentals look their best. We schedule treatments every 8-10 weeks to ensure we can cater to your plants' seasonal needs. With a friendly technician, quality products, and guaranteed results, we will have your landscaping looking great in no time. Our services include:
Dormant oil applications to fight off pests like mites and scale.

Disease control to stop fungal issues from spreading.

Slow-release fertilizer to keep your plants nourished.

Insecticides to eliminate pest infestations and prevent damage.
Fire Ant Control in Johns Creek
Fire ants are a significant nuisance and can pose various problems to residential and commercial properties. Their rapid population growth and aggressive behavior make them a challenging pest to deal with. But with Environmental Turf Management on your side, you don't have to worry! Our fire ant control in Johns Creek will protect you from:
Property damage: Fire ant colonies can grow rapidly, reaching hundreds of thousands in population. They create large mounds on lawns by excavating tunnels, which can be unsightly and disturb the landscape.

Damage to plants: Fire ants can cause harm to plants as they tunnel underground. Feeding on roots and disturbing the soil can cause plants, including grass, to stunt or die over time.

Aggressive behavior: Fire ants are known for their aggressive temper and will sting or bite anything and anyone that comes too close to their nests. This poses a significant threat to pets, children, and even adults, as their stings can be painful and cause allergic reactions in some individuals.
Flea and Tick Control in Johns Creek
Fleas and ticks can be a concern during the warmer months, particularly in the summer and fall, when people spend more time outdoors. These pests can pose health risks to both humans and pets, and it's essential to take preventive measures to protect your family and enjoy your yard safely. Environmental Turf Management offers flea and tick control services in Buford to address these issues proactively. Here's how our services can help:
Inspection: The first step is a thorough inspection of your yard to identify areas that are at risk of flea and tick infestations. Identifying problem areas allows for targeted treatment and better overall effectiveness.

Safe and Effective Treatment: Environmental Turf Management uses products that are safe for people, pets, and the environment, while still being effective in controlling flea and tick populations. This ensures that your yard is free from these pests without compromising the safety of your loved ones.

Recurring Visits: Flea and tick control is an ongoing process. By scheduling recurring visits, Environmental Turf Management can provide long-term relief and keep your yard protected throughout the peak activity seasons for fleas and ticks.

Preventing Illnesses: Fleas and ticks are vectors for various diseases, such as Bartonella and Lyme disease. By controlling these pests, the risk of contracting these illnesses is reduced, keeping your loved ones safe and healthy.