Image

Get
50% Off
Your First Service
Taking care of your lawn is no simple task, but our experts make it look easy. With over 20 years of experience and friendly technicians, there is no better option than Environmental Turf Management.
Lawn Care in Georgia
If you are searching for a reliable lawn care company, you're in the right place! At Environmental Turf Management, we always look for ways to improve and bring our customers the latest innovations, ensuring you get great service every time. Our technicians are dedicated to getting you your dream lawn—the lawn you deserve! Contact us today to schedule your consultation.
Get a Better Lawn While Saving Money
At Environmental Turf Management, we are proud to make quality services available to all our neighbors. In addition to our affordable prices, we also have exclusive coupons just for you!
Local Lawn Care Experts
Our technicians have an edge that put us above any other lawn care company. We are all locals, so we know exactly what it takes to achieve a great looking lawn in Georgia. With our team on your side, you will see results in no time, we guarantee it!
Image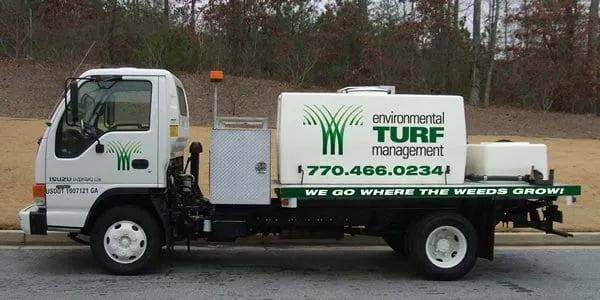 Areas We Service in Georgia
As a locally-owned business, we love helping our neighbors and forming deep connections with the communities we serve. Our lawn care technicians service Metro Atlanta and surrounding areas:
Image