Get Your Dream Lawn in Loganville, GA
Lawn Care in Loganville
Loganville follows Georgia's long-standing tradition of supporting and celebrating green spaces and natural vistas. The motto here is "Where People Matter," and here at Environmental Turf Management, we could not agree more. As a locally owned, family-run business, we care about our customers and the well-being of their lawns.
Our lawn care in Loganville provides:
Lawn fertilization
Fire ant control
Tree & shrub care
Aeration & seeding
Mole control
And more!
Image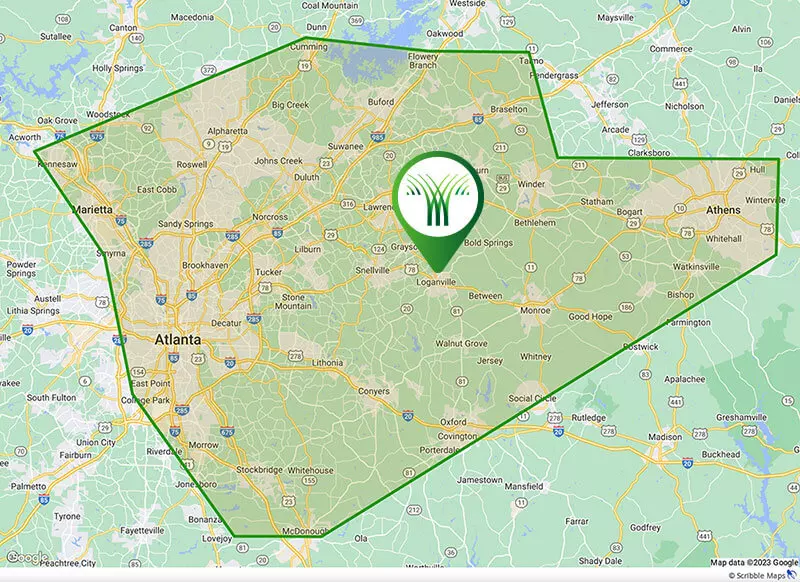 Premier Services in Loganville, GA
At Environmental Turf Management, our seven-step lawn care program will provide your home or business with the nourishment and protection your lawn needs to stay healthy and strong. Our lawn care program runs from early spring through late fall and includes a blend of fertilizer and weed control personalized for your type of soil and turf. Our pre and post-emergent treatments help prevent and control broadleaf and grassy weeds throughout the year. Our expert technicians have over 20 years of experience servicing Loganville lawns near you!
Aeration in Loganville
Even the healthiest lawns can fall prone to the climate stressors we face in Georgia. Heat, drought stress, and oversaturation can wreak havoc on your turf. Add in heavy foot traffic, and you have all the makings of an environment ripe for soil compaction. Compacted soil prevents anything from getting to the roots, including much-needed nutrients and water.
Aerating your lawn has tremendous benefits, some of which include:
Stronger, healthier roots
Improved air exchanges between soil and the surface
Reduced water runoff and improved drainage
Increased resistance to climate stressors
Decreased soil compaction
Thicker, fuller grass
Environmental Turf Management offers lawn aeration services for fescue, Bermuda, and zoysia-type grasses. Our core aeration process makes thousands of holes in your lawn, allowing the much-needed nutrients, water, oxygen, and sunlight to reach your root system again. We provide overseeding services for fescue grass. 
Tree and Shrub Care in Loganville
At Environmental Turf Management, we understand how important your trees and shrubs are. They provide shade, create privacy, and block out sound and air pollution. Their tranquil nature also offers a sense of calm in your landscape. That is why we offer a six-application tree and shrub care program designed to preserve and protect your beloved plants.
With our tree and shrub program, we will:
Utilize only the highest quality products and state-of-the-art equipment.
Apply dormant oil in the spring to attack pests and once again in the fall to target overwintering insects.
Throughout the growing season, treat diseases and insects as needed.
Come fall, we also use a slow-release fertilizer to encourage spring growth.
Fire Ant Control in Loganville
Do not take chances with these vicious, biting creatures, invest in fire ant control today. Fire ants are small, but they can quickly invade any lawn and create an unsafe, unsightly yard. These small red ants burrow underground, constructing tunnels and developing large unappealing mounds they call home. Worse yet, when disturbed, fire ants will attack, biting their opponent, causing a painful, often itchy lesion. Our experienced experts will come in and assess your yard and identify the issue. Then our team will exterminate these biting insects and give you your yard back.
Fire ant control with Environmental Turf Management means:
Trained, qualified, and experienced staff
Affordable prices
State-of-the-art equipment and gear
Top-quality service
Flea and Tick Control in Loganville
We love the outdoors here in Loganville. Unfortunately, so do pests including fleas and ticks. These incredibly irritating creatures are not only annoying but can carry harmful, dangerous diseases for both you and your pets. They can even make their way inside your home, invading your lawn and your personal space. Our flea and tick control service is second to none offering protection for you, your family, and your pets at an affordable price. 
Our flea and tick control offers a three-step approach that includes:
Property evaluation to better understand where to target treatment
Flea and tick elimination
Ongoing applications to control and prevent future infestations
Areas We Service Around Loganville
Not in Loganville? No worries! We service cities in the surrounding area, including: