Get A Free Quote on Lawn Care in Snellville, GA
Lawn Care in Snellville
Our professional lawn care technicians at Environmental Turf Management believe that there is nothing better than creating outdoor memories at home in your own green space in Snellville. We have been repairing, restoring, and revitalizing Snellville properties for over 20 years! We know what works and what does not. More importantly, we are very familiar with the problems that face Snellville lawns. Regardless of how bad your yard currently looks, our skilled lawn care specialists can transform the look and feel of your lawn into an amazing outdoor living space that commands attention and boosts your home's curb appeal.
Our lawn services in Snellville include:
Fertilization
Aeration & seeding
Weed control
Lawn insect control
Tree & shrub care
And more!
Image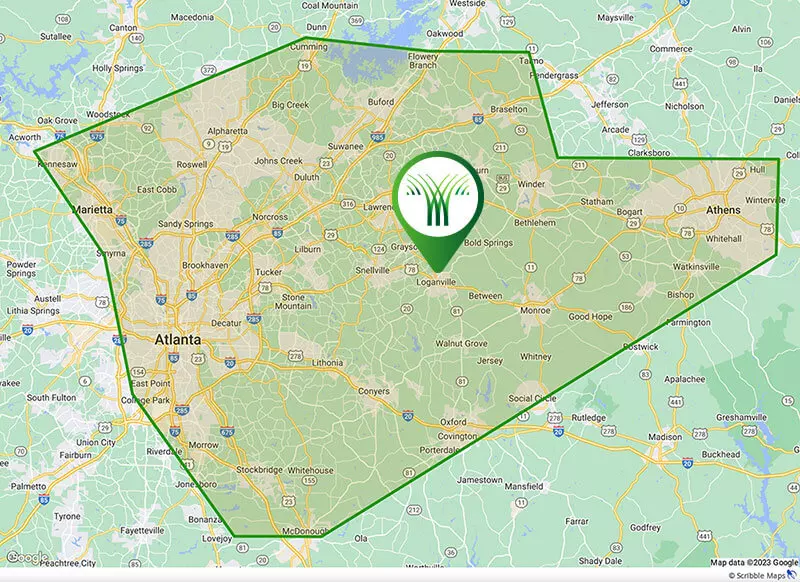 Trusted, Local Lawn Care Services
Rather than spending your free time doing yard work, Environmental Turf can beautify your residential and commercial landscapes. We've been the best lawn care company in Loganville since 2000! We offer home and business owners a wide range of treatment options. The best part is we know all about the needs of our Snellville, Georgia customers! Our technicians are well-versed in the common problems you face with lawn care and have all the solutions to your problems. Whether you are in need of fertilization, weed control, or anything else, Environmental Turf has you covered. 
Aeration in Snellville
Over time, our yards take a beating from playing, running, mowing, and other activities. Soil compaction is a common occurrence in yards that are used often. When soil becomes compact it prevents your grass from being able to get water and nutrients. When these problems arise the only solution is lawn aeration. Aeration from Environmental Turf Management are effective ways to combat these conditions. Our lawn aeration specialists can eliminate thatch, redistribute nutrients, and ensure that your Georgia lawn thrives. Here are a few signs your soil is compacted:
Water pooling or running off
Thatch buildup
Heavy clay soil
Thin, patchy, or bare grass spots
We provide seeding services to follow aeration for fescue grass. Learn more here! 
Tree & Shrub Care in Snellville
Natural environments protect trees from pests that carry diseases from overrunning them. As soon as they are transplanted into our yards, they lose that protection and become vulnerable to numerous pests. Trees can sometimes be overwhelmed by these pests. In order to prevent this from happening, it is important to keep an eye on your trees and shrubs and make sure they do not have a significant amount of insects living on them such as:
Aphids
Tree scale
Beetles
Ants
Mites
Caterpillars
Our six-step tree and shrub program will make sure your trees and plants are healthy. Get in touch with Environmental Turf Management. We keep your trees and ornamentals looking good, strong, and insect-free with our team of trained and licensed technicians.
Fire Ant Control in Snellville
Whether it is residential or commercial, fire ants can become a problem fast. Without treatment, fire ant colonies can quickly become overwhelming with populations in the hundreds of thousands. Their activity can litter your grass with ugly brown mounds that dull your lawn mower blades. As they carve out their galleries underground they feed and disturb the tender roots of the plants above. Over time, their tunneling can cause the grass to stunt or die.
Fire ants are also a health hazard for pets and children. These aggressive insects will attack with the full force of the colony when disturbed. If you have a fire ant infestation you should call the pros at Environmental Turf Management as soon as possible. We offer effective fire ant control so you can take your yard back and enjoy it in peace.
Flea & Tick Control in Snellville
Some of the invisible pests that live in our yards are fleas and ticks. When fleas and ticks jump onto your cat or dog they can hitch a ride into your home. Unfortunately, just one bite from a flea or tick can spread a whole bunch of diseases, including Lyme disease or Tularemia. These pests like to hide in shady areas of your lawn where your pets also like to hang out, such as:
Under trees
In tall grass
Under decks and porches
Under shrubbery
Environmental Turf Management provides Snellville residents with effective flea and tick control services. We provide customized treatments, services, and applications for residential and commercial properties.