Image

Tree and Shrub Care Services
Tree and Shrub Care in Georgia
Everyone loves the look of healthy, mature trees and shrubs, but not everyone has the time or knowledge to take care of them. That's where we come in! Our tree and shrub care is designed to cater to the specific needs of your ornamentals, helping them grow beautifully. For guaranteed results, trust Environmental Turf Management.
See Results with Seasonal Treatments
Our tree and shrub care uses the best products available. This allows us to give you results while keeping your property safe for kids and animals. Based on your property's unique needs and the season, our treatments may include:
Dormant oil applications to eliminate overwintering pests like mites and scale.

Disease treatments to stop fungal issues from spreading.

Apply slow-release fertilizer to feed your plants throughout the winter.

Use insecticides as needed to eliminate damaging pest infestations.
Benefits of Ornamentals
Trees and shrubs are beneficial plants to have on your property. Not only do they add color and variety, but they can also save you money and make your home a better place to live. Keeping your ornamentals healthy ensures you get those benefits, such as:
Stopping erosion:

Trees and shrubs have large root systems that do a great job of anchoring soil in place, stopping erosion from runoff.

Improving air quality:

Plants naturally filter out some pollutants and give off clean oxygen.

Providing privacy:

Trees, shrubs, and hedgerows can obstruct your neighbor's view of your property, as well as dampen sound and block light.

Increasing property value:

Landscaping that's well cared for can increase your home's value up to 20%, giving you a return on your investment.
Bed Weed Control
Ornamental gardens can transform your landscape, but it can be hard to stop weeds from getting in the mix. At Environmental Turf Management, we offer bed weed control to make sure those pesky weeds stay out of your landscape beds. Our bed weed control program is designed to manage a variety of indigenous grasses and broadleaf weeds that set up shop in your yard. Our annual program is applied in two seasonal treatments to minimize the impact that weeds have on your flowers, trees, and shrubs:
Round 1: Spring pre-emergent treatment targets warm-weather grasses.
Round 2: Fall pre-emergent treatment targets winter grasses.
Our technicians use the best products in the industry to ensure lasting results for our customers. With our bed weed services, you can rest assured your garden beds will get back to the way they should be: weed-free!
What Makes Environmental Turf Management Different
When you work with Environmental Turf Management, you are working with the best. We are a family-owned business, so you can feel confident that we always have the well-being of you and your family in mind. We also offer free service calls if you are not satisfied. Simply give us a call and we will come back at no additional charge!
Routine Service from a Friendly Face
We keep your plants looking their best all year long by scheduling visits every 6-8 weeks. This gives us plenty of time to prepare them for the coming season, do any necessary treatments, and ensure there are no existing issues. You will also get the same tree and shrub care expert every visit, so you know exactly who to expect.
Image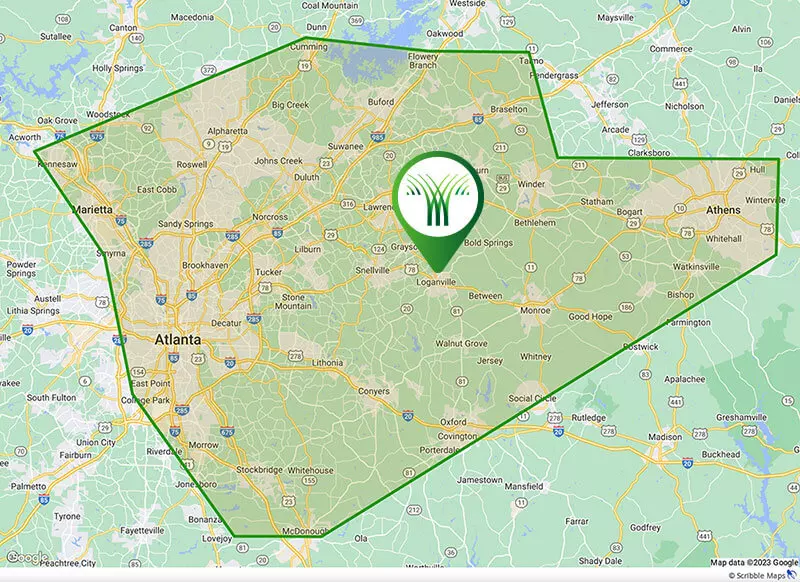 Tree & Shrub Care Service Area
As a locally-owned business, we love helping our neighbors and forming deep connections with the communities we serve. Our tree and shrub care technicians service Metro Atlanta and surrounding areas: