Duluth Lawn Care Customized For You
Lawn Care in Duluth
A healthy, well-maintained lawn raises your property value and looks amazing! Trust Environmental Turf Management to make sure your lawn gets everything it needs this season and every season. Our technicians are rigorously trained, stay up-to-date on industry innovations, and are always willing to go above and beyond. There is no better option for lawn care in Duluth!
Our lawn care services include:
Fertilization:

Fertilizer applications give your grass the nutrients it needs.

Aeration:

A combination of aeration and overseeding gives your yard the boost it needs.

Weed control:

We'll stop stubborn weeds even before they start growing.

Lawn insect control:

Targeted applications protect against fire ants, grubs, and armyworms.

Disease treatment:

Treatments stop lawn diseases like dollar spot from taking over.
Personalized Lawn Service
Your lawn might look a lot like your neighbor's, but both properties are completely unique. Foot traffic, soil health, grass type, and countless other factors go into caring for your lawn. To ensure we meet your specific needs, we offer personalized lawn care in Duluth. This ensures you get the best results possible. Not in Duluth? Check out our lawn care in Loganville and the surrounding area!
Image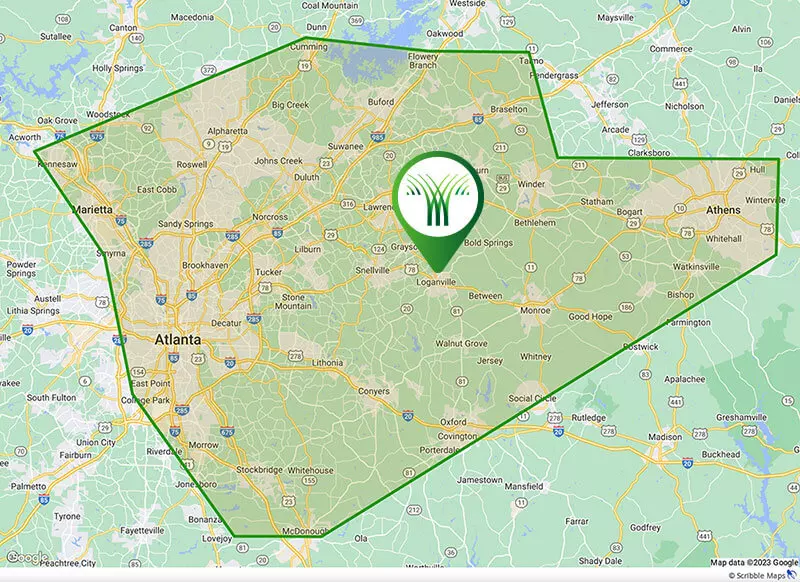 A Better Lawn, Guaranteed!
We stand by our services, and we want you to feel just as confident! That's why our lawn care in Duluth comes with a satisfaction guarantee. If you are unhappy after our visit, simply give us a call and we will return to make things right. That's the type of service you can depend on every time you work with Environmental Turf Management!
Aeration in Duluth
Soil compaction and thatch buildup are natural, but they can still be damaging. Compacted soil prevents water and nutrients from reaching the roots while thatch can choke out your grass. This results in bare patches, dead grass, and an overall unhealthy lawn. Our lawn aeration in Duluth is an easy way to transform your grass. With a bit of help and a little time, your property will look better than ever before!
Benefits of our lawn aeration services include:
Thicker grass that has fewer weeds.

Stronger roots that are part of a larger root system.

Increased drought and disease resistance.

Better fertilizer and water absorption.

Less puddling and water runoff.
We also provide seeding services for fescue grass. Learn more about our seeding service here. 
Grass Types in Duluth
Bermuda
Zoysia
St. Augustine
Tall Fescue
Lawn Diseases in Duluth
Fairy Ring
Brown Patch
Dollar Spot
Large Patch
Weeds in Duluth
Crabgrass
Dallisgrass
Dandelions
Doveweed
Tree & Shrub Care in Duluth
Having ornamentals can add a pop of color and some variety to your landscaping, increasing your curb appeal and property value. Taking care of these plants is not easy, however, and relying on trial and error can get expensive. Instead of taking on all the hard work yourself, trust our tree and shrub care in Duluth. We offer comprehensive services that take care of your trees and shrubs from every angle, keeping them healthy and strong.
When you partner with us for tree and shrub care, we will:
Spray dormant oil to stop pests from overwintering in foliage.

Treat fungal diseases to prevent them from damaging your plants.

Apply slow-release fertilizer to feed your ornamentals through winter.

Use safe insecticides to eliminate existing pest infestations.
Fire Ant Control in Duluth
Fire ant stings can cause painful and swollen welts, and for some individuals, they can even lead to severe allergic reactions, making it crucial to avoid any close encounters with these pests. If you're dealing with fire ants, call Environmental Turf Management! Here's what our fire ant control in Duluth includes:
1. Free Inspection: A thorough inspection is conducted to understand the extent of the fire ant infestation and to tailor the treatment plan according to the unique needs of your property.
2. Effective Treatment: The professionals use products that are proven to be effective in eliminating fire ant colonies. Using the right treatments is vital to ensure that the infestation is addressed properly.
3. Long-term Protection: Effective fire ant control requires ongoing efforts to prevent re-infestation. By providing long-term protection, the service ensures that your property remains fire-ant-free for an extended period.
4. One-Year Guarantee: Backing its services with a one-year guarantee shows the confidence of the company in its ability to provide effective and lasting results.
Flea and Tick Control in Duluth
Fleas and ticks are not only annoying but also pose serious health risks to both humans and pets. They can transmit various diseases, including Bartonella, Lyme disease, and tapeworms. Protecting your loved ones from these pests is essential; our professional flea and tick control in Duluth can help you achieve that!
Here's how our service works to keep your property safe and pest-free:
Thorough Inspection: The first step is a comprehensive inspection of your property to identify potential hiding spots and breeding areas for fleas and ticks. 

Effective Treatment: We use the most effective products available to control flea and tick populations on your property. These treatments are designed to target and eliminate ants without compromising the safety of your family and pets.

Season-Long Relief: Fleas and ticks are active throughout the warm months, so continuous protection is necessary. The service provides relief all season long, allowing you and your family to safely spend time outdoors without the worry of encountering these pests.

Customer Satisfaction Guarantee: We stand behind our service; if you aren't satisfied, just give us a call.