Locally Owned Lawn Care in Buford, GA
Lawn Care in Buford, GA
Whether you are enjoying a live concert at Town Park & Theater or taking a stroll down historic Main Street, there is always something fun to do in Buford. At Environmental Turf Management, we have been repairing, restoring, and revitalizing the lawns of Buford, Georgia, for over 20 years! We know what works and what doesn't. More importantly, we are very familiar with the problems that face Buford lawns. Regardless of how your yard currently looks, our skilled lawn care specialists can transform it into a unique outdoor living space that commands attention and boosts your home's curb appeal.
Our lawn services in Buford include:
Fertilization
Weed control
Aeration & seeding
Grub control control
Tree & shrub care
Mole control
And more!
Image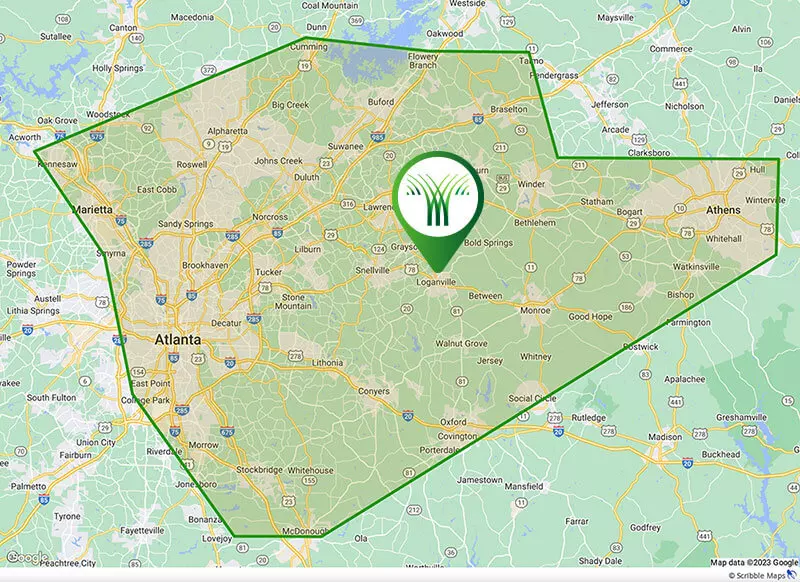 Lawn Services in Buford, GA
Environmental Turf Management has been Buford's one-stop shop for professional lawn care services since 2000. We offer home and business owners a wide range of treatment options. Our seven-step lawn care program begins in early spring and ends in the fall. The program features regular lawn fertilization and weed control applications based on your yard's soil conditions and growing needs. It is guaranteed to promote lush green grass that can fight off weeds naturally. Our specially formulated seven-application weed control system is designed to eliminate unwanted growth and prevent future outbreaks. We know there are plenty of lawn care companies to choose from, but with Environmental Turf, you will get:
A free quote on all our services.
Service from local technicians with over 20 years of experience.
Online payment options for your convenience.
Satisfaction guaranteed- we offer free service calls if you aren't satisfied!
And more!
Aeration in Buford, GA
Soil compaction is a significant problem in Buford and the source of most lawn problems. Your soil can become compacted naturally over time from frequent use and mowing. When soil compacts, it can make your grass look like it is suffering from drought. This is because the soil is so hard that not even water can penetrate, depriving your grass of the water and nutrients it needs to survive. The only way to relieve the problems caused by soil compaction is with lawn aeration.
Signs of soil compaction:
Water pooling or running off
Thatch buildup
Heavy clay soil
Overseeding is a method for restoring and boosting the appearance and health of your lawn. We provide seeding services for fescue grass only. Our program mixes other grass types with your current lawn to make it more resistant to pests, drought, and diseases. Aeration and overseeding from Environmental Turf Management is an effective way to combat common lawn problems.
Tree & Shrub Care in Buford, GA
Trees and shrubs used as decoration in our yards are more vulnerable than their cousins that live in the first. Without the buffer of other trees to protect them, our trees and shrubs are very susceptible to tree diseases and pests that carry them. The 6-step tree and shrub program from Environmental Turf Management will make sure your trees and plants are healthy, protecting them from insects such as:
Aphids
Tree scale
Beetles
Ants
Mites
Caterpillars
Fire Ant Control in Buford, GA
Fire ants can cause problems in both residential and commercial properties. A fire ant colony can quickly become overwhelming without treatment, with populations reaching hundreds of thousands. The mounds they leave on your lawn from excavating tunnels can cause your lawn mower blades to dull as a result. They feed on and disturb the tender roots of the plants above as they carve out their underground galleries. Grass can stunt or die due to ants tunneling over time.
Fire ants are known for their aggressive temper and will attack anything and anyone who gets too close. This includes pets and children. If you have a fire ant infestation, you should call the pros at Environmental Turf Management as soon as possible. We offer effective fire ant control so you can take back your yard.
Flea & Tick Control in Buford
Fleas and ticks are active during the summer and fall, which is the perfect time to be outdoors with your friends and family. Instead of worrying about pulling off ticks or treating for a flea infestation, be proactive with Environmental Turf Management. We offer flea and tick control in Buford to help you safely enjoy your yard. We'll eliminate pests and give you tips to help prevent future issues, ensuring you're always protected.
When you choose our flea and tick control services, we will:
Carefully inspect your yard to identify areas that are at risk.

Treat using products that are both safe and effective.

Schedule recurring visits for long-term relief.

Keep your loved ones safe from illnesses like Bartonella and Lyme disease.