Get 50% Off Lawn Care in Alpharetta
Lawn Care in Alpharetta
If you are looking for a reliable lawn care company, look no further than Environmental Turf Management. We have been providing lawn care in Alpharetta since 2004, so we know how to tackle any problem from stubborn weeds to hungry grubs. With experienced technicians, quality products, and guaranteed services, there is no better choice.
When you partner with us for lawn care, we will:
Fertilize your grass

to stimulate new growth.

Aerate and overseed

to fill in bare spots and break up compacted soil.

Eliminate weeds

such as clover and crabgrass.

Treat against grubs, armyworms, and fire ants

.

Stop lawn diseases

such dollar spot or brown patch before they spread.

And more!
Image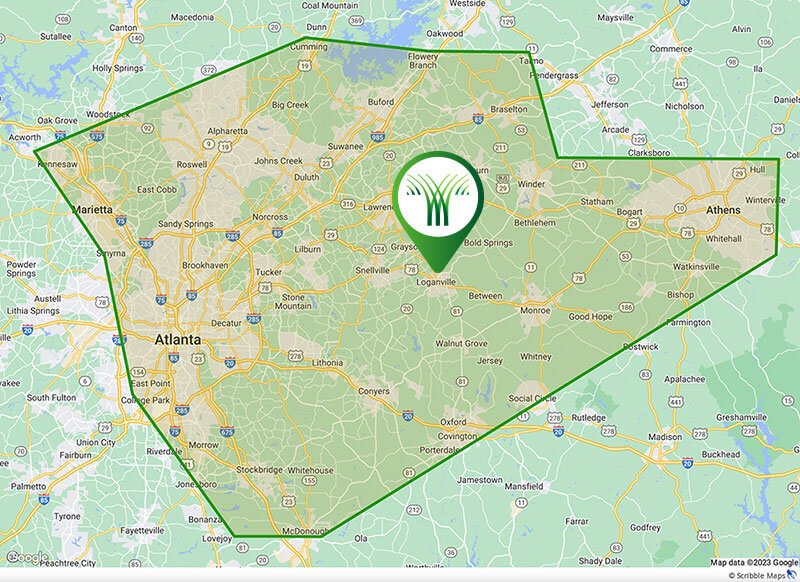 Transform Your Lawn with Custom Treatments
The best way to get healthy, vibrant grass is by listening to what your property really needs. Instead of taking a cookie-cutter approach, our lawn care in Alpharetta is customized to your unique needs. We will spend time listening to your concerns, evaluating your turf's current conditions, and looking for problem areas. Then, we will create our customized treatment plan and go over it with you.
See Guaranteed Results
Our lawn care in Alpharetta uses the best products, so you can trust that you will see results in no time. In fact, we guarantee you will! We stand behind our services 100% and will happily offer a free service call if you are unsatisfied after a visit. All you have to do is let us know and one of our technicians will be at your door as soon as possible.
Aeration in Alpharetta
Lawn aeration is one of the most important things you can do for your property. Compacted soil and thatch buildup can suffocate your lawn, making it impossible for water and nutrients to reach the roots. This can cause unhealthy turf with yellow patches and bare spots. Our aeration in Alpharetta is an effective way to reverse this damage. We will break up hard soil and remove thatch, letting in the nutrients it needs. For fescue grass, we then follow up with overseeding services. 
Lawn aeration has many benefits, such as:
Stronger, deeper roots

Enhanced water and fertilizer uptake

Thicker, more even grass growth

Drought and disease resistance

Fewer weeds
Tree & Shrub Care in Alpharetta
We are here to help your landscape look its best, and that does not stop at your grass! Our tree and shrub care in Alpharetta is designed to keep your plants strong and healthy year-round. Everything from insect control to fertilization, we can do it all. We create a custom treatment plan with visits every 8-10 weeks, giving your ornamentals what they need, when they need it.
Our tree and shrub care includes:
Dormant oil treatments that protect against overwintering insects.

Disease control that stops fungi from damaging your plants.

Balanced fertilizer applications that stimulates new growth and blooms.

Insecticides that eliminate pests like beetles and mites.