Over 20 Years of Lawn Care in Marietta
What kind of problem are you having? Select all that apply.
Lawn Care in Marietta
Having a well-maintained lawn not only enhances the visual appeal of your property but also creates a welcoming outdoor space for you and your family to enjoy. Environmental Turf Management offers reliable lawn care services in Marietta, backed by years of experience in the industry!
Our comprehensive services address various issues to ensure that your lawn stays healthy and vibrant. Here's what you can expect from our technicians:
Fertilization: Properly fertilizing your grass is essential for stimulating new growth and improving color and overall health. Fertilization provides the necessary nutrients that your lawn needs to thrive.

Aeration: Aeration helps break up compacted soil, allowing air, water, and nutrients to penetrate the root zone more effectively. Overseeding fills in bare spots, leading to a thicker and healthier lawn.

Weed Control: Weeds such as clover and crabgrass can compete with your grass for resources, affecting its growth and appearance. Environmental Turf Management employs effective weed control strategies to keep your lawn free from these pesky invaders.

Lawn Pest Control: Lawn pests like grubs, armyworms, and fire ants can cause significant damage to your lawn. Treating these pests ensures that your lawn remains healthy and free from potential threats.

Disease Prevention: Lawn diseases like dollar spot and brown patch can quickly spread and cause damage to your turf. Preventive measures are taken to stop these diseases from spreading and harming your lawn.
Environmental Turf Management offers a range of other services as well, tailored to address the specific needs of your lawn. By entrusting your lawn care to experienced professionals, you can be confident that your outdoor space will look its best and provide a beautiful setting for your outdoor activities.
Image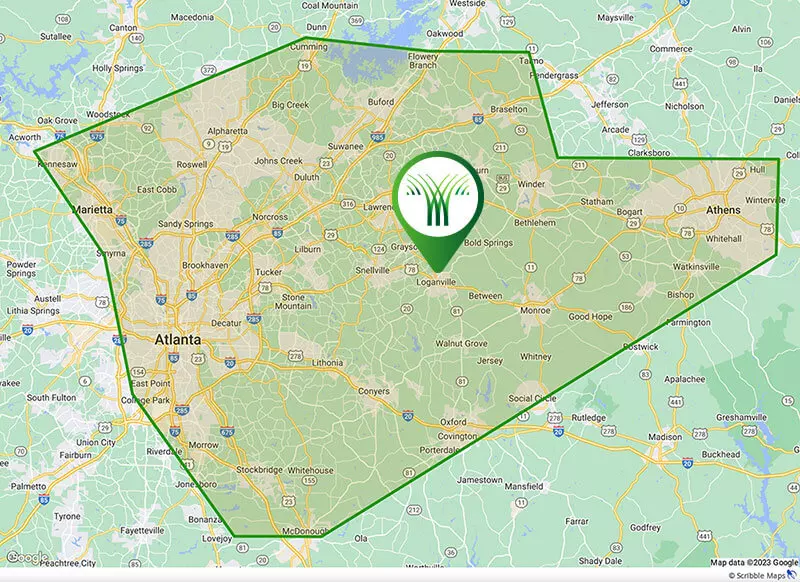 Aeration in Marietta
Lawn aeration is an essential service for maintaining a healthy and vibrant lawn. Over time, regular use, foot traffic, and other factors can lead to soil compaction and thatch build-up, which hinders the movement of water, air, and nutrients to the grassroots. Our aeration in Marietta can help with this! Here's what our aeration process includes:
Removing Soil Plugs: The professionals use a high-quality core aerator to remove small plugs of soil from the lawn. These plugs are then redistributed on the lawn.

Creating Welcoming Pathways: The holes left behind by core aeration become pathways for water, air, and nutrients to penetrate the soil and reach the grassroots. This allows the roots to receive the essential elements they need to thrive.
Fescue Seeding Available
The combination of lawn aeration and seeding is a powerful way to revitalize your lawn and promote healthy, lush grass growth. Here at Environmental Turf Management, we offer seeding services for fescue grasses. With our expertise in lawn care, you can expect to see noticeable improvements in your lawn's appearance and health.
Tree and Shrub Care in Marietta
Taking care of trees, shrubs, and ornamental plants is vital for maintaining a beautiful and healthy landscape. Environmental Turf Management offers a specialized and personalized tree and shrub care program to ensure that your decorative plants thrive throughout the year. Here's what our tree and shrub care in Marietta includes:
The latest and greatest tree and shrub care product
Regular fertilization treatments provide the necessary nutrients for your trees and shrubs
Tree spraying that targets insects and diseases
A seasonal approach that addresses issues specific to each time of year
And more!
Fire Ant Control in Marietta
Fire ants can indeed be a significant problem in warm-weather states, making it challenging to fully enjoy your outdoor space without worrying about painful bites. Environmental Turf Management offers professional fire ant control in Marietta to ensure that these troublesome insects stay away from your property. Here's how our service guarantees effective fire ant removal:
Expert Examination: The first step is a thorough examination of your property by their fire ant extermination team to determine the extent of the infestation.

Qualified and Trained Staff: We employ qualified and trained staff who are skilled in fire ant control techniques. Dealing with fire ants requires specific knowledge and methods to effectively remove them from your property.

Appropriate Gear: We use the right gear and equipment to eradicate fire ants both on the surface and underground. Fire ants create complex nests underground, and addressing the problem requires specialized approaches to reach their colonies.

Affordable Price Point: Environmental Turf Management strives to meet your fire ant control needs with an affordable price point!
Flea and Tick Control Marietta
Fleas and ticks can be a persistent problem, not only in outdoor spaces but also in your home, nesting in carpets and clothes. Environmental Turf Management offers professional flea and tick control in Marietta to help you reclaim your outdoor living space and eliminate these pests effectively. Here's how our 3-step approach works:
Property Assessment: The first step is a thorough property assessment to identify potential flea and tick nests and areas with high pest activity. 

Extermination at Every Stage: Fleas and ticks have multiple lifecycle stages, and controlling them requires addressing each stage. Environmental Turf Management's control service targets fleas and ticks at all stages of their lifecycle, including eggs, larvae, pupae, and adult insects.

Consistent Treatment: Flea and tick control is an ongoing process. To keep these pests off your property for good, consistent treatment is necessary.